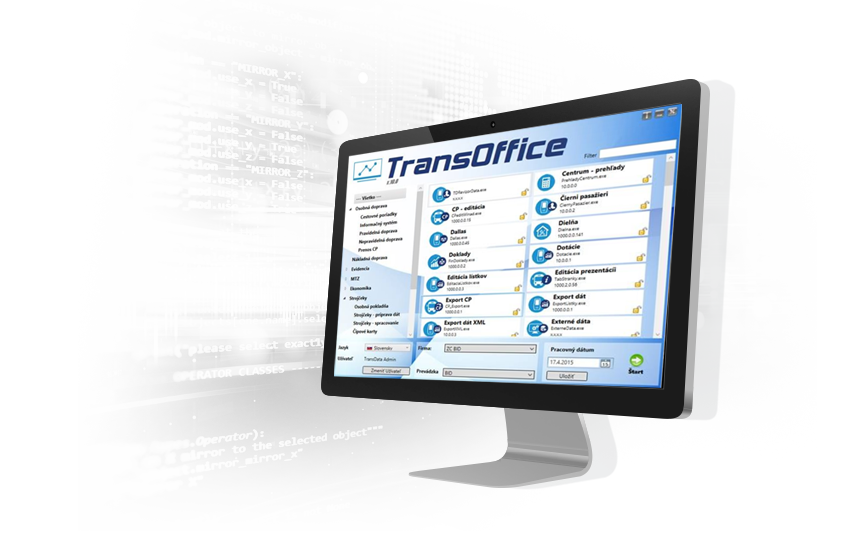 TransOffice
A comprehensive package of TransOffice tools brings an integrated view of public transport business processes. Modular, scalable, configurable solutions are ready to meet customer needs in the area of:
passenger transport, planning and evaluation
sales device behavior reports and configurations
preparation of input data for sales devices
processing of data from sales devices
records of employees, vehicles and their interruptions
transport card management and personalization

PASSENGER TRANSPORT
The TransOffice system is a transport planning software. It enables planning of drivers' work, with the assignment of specific vehicles for a whole month. The plan also takes into account the interruptions of employees and vehicles. It can generate records of vehicle operation, create shift schedule and allow their export and printing.
In addition to regular services, it is possible to register orders for irregular services, its planning, the processing of the performed route and the invoicing to the customer.
The programs provide a variety of performance overviews of drivers and vehicles from records of vehicle operation. It provides data of gross wages of drivers for payroll programs and the export of invoices from irregular transport to accounting systems.
The system also has an integrated option of establishing timetables in the passenger transport section.

DEVICE MANAGEMENT
The TransOffice system communicates with various electronic sales and control devices. In particular, sales and ticketing equipment in buses, pre-sales equipment, automatic machines, eShops, inspector reader, boards and speakers in vehicles. The TransOffice monitors and plans communication with these devices and ensures the actual exchange of the necessary data.
Device management includes:
registration of active devices
set up, recording and loading data to/from devices
setting and uploading of input data (timetables, tariff system, ticket patterns, ...) to sales electronic devices
reading data (statistics) from sales electronic devices
preparation of sounds for speakers, input data for information boards, to increase passenger information
simplification of claims

STATISTICS
The TransOffice system processes statistics from personal cash register, devices and chip cards.
THE PERSONAL CASH REGISTER IS USED FOR:
registration and accounting for the distribution of revenues from deductions from electronic cash register as well as other receipts and expenditure documents
linking the processing of deductions with the money reader for the drain of driver revenues
overviews and printing the reports of processed documents and export document billing to external accounting
DEVICES OVERVIEWS ALLOW:
to view and print the summaries (sales, VAT, number of passengers, ...) by tariff, lines, connections, stops, devices, drivers
to view and print a variety of special customized overviews and reports
to create a list of individual tickets and a description of the specific ticket
to export the statistics from sales electronic devices to the Clearing center and to various other external systems
CHIP CARD OVERVIEWS ALLOW:
to view and print the various reports of transactions in electronic wallet (EW) and subscription time tickets purchased on the ChC
to view and print a detailed account of the selected card with the option online loading of transactions executed at other carriers from the Clearing center
to view and print the lists of cards and their balances according to various criteria

PERSONALIZATION
Personalization includes registration of transport cards. This functionality of the system allows for the issue of a duplicate card to the cardholder in case of loss, damage or expiration.
The personalization also allows to create a customized chip card print by the data of the holder and the publisher and to upload data into the card chip.

ADDITIONAL FUNCTIONALITY
registration of employees and their interruptions, which serve transport planning with the possibility of exporting them to payroll programs
vehicle registration, monitoring and maintenance planning
vehicle accident reports
customer records
overviews of inspector checks and records of the black passengers
warehouse and workshop