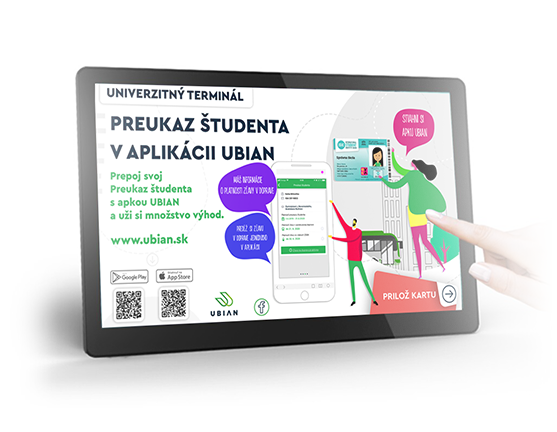 UNITERMINAL NETWORK
UNITerminal is a self-service electronic device with integrated NFC reader designed for reading and loading data of the transport cards, student/pupil cards, employee card and city cards.
It is based on the concept of All-in-One computer with a touch screen. The device is suitable for wall mounting.
The Online Customer Center makes it much easier to troubleshoot problems with the chip card through remote diagnostics. It is possible to send the contents of the card to the Customer Center for possible problem solving via UNITerminal, which will significantly reduce the processing time.
The network of public UNITerminals can be found on the portal www.preukazstudenta.sk
UNITERMINAL FUNCTIONALITY, DEPENDING ON THE TYPE OF CARD:
> PUPIL CARD AND STUDENT CARD

prolongation of pupil and student status

updating of licenses according to the information provided by the school

overview of card content (transport, ZSSK, school systems)

overview of activated carriers, current balance and valid travel tickets
> TRANSPORT AND CITY CARDS

EW balance overviews and currently valid STT

history of card use

processing of events from the e-shop and transport system